With a career traveling around as a home care physical therapist, Ryan King wanted his home base to fit his adventurous lifestyle. Ryan had imagined building a tiny home for himself one day and he finally made his dream a reality last year. Although it wasn't an easy journey, Ryan was able to convert a school bus into a portable home he can now travel with across the country.
Two years ago, Ryan had the opportunity to attend a tiny house convention in Eaton, GA where he was able to learn more about creating his own home. It was here that he was able to see tiny houses in person and talk to owners about how they made it happen. At the convention, he was also able to see other ways to live the lifestyle as well and the shipping container houses caught his eye as an alternative to the tiny home.
Ryan said he didn't have any interest in the school bus route at first, until he spoke with one owner at the convention about his "skoolie" conversion. Since Ryan was planning to continue traveling, he learned that he would have to invest in a larger truck to tow his tiny home, but the school bus could be his house and cross-country transportation all in one.
After doing some more research, he found a school bus for sale on Ebay that had previously been used a mock spaceship for kids in the 80s and it didn't have too many miles on it. It came equipped with a generator and AC/heating built it, but Ryan found that he still had to clean everything out and start over with his own floor plan. He gave up his apartment and lived in the bus while he worked on it with no electricity or running water. He knew that was a lot to ask of his girlfriend, who also travels as a respiratory therapist, so he was able to work on a lot of the renovations while she was away on assignment.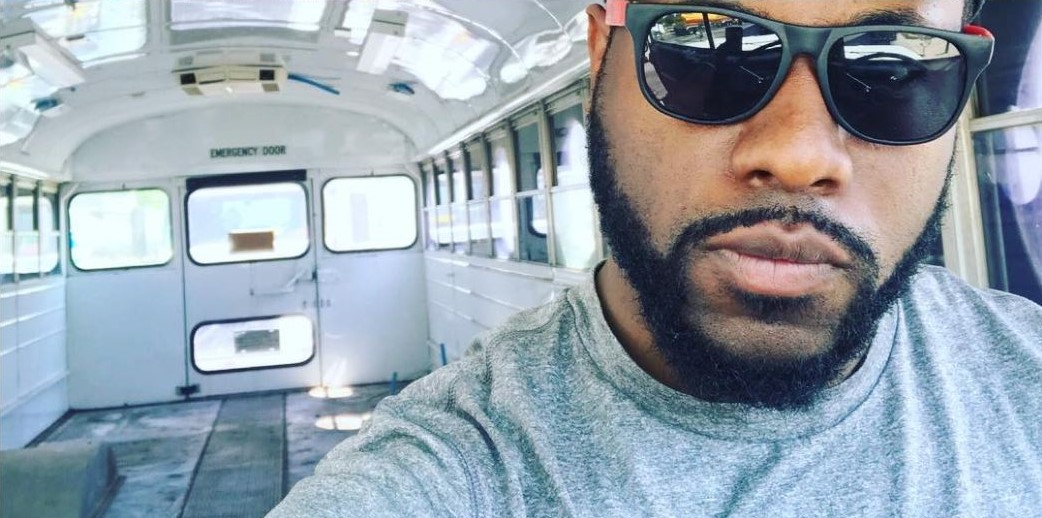 There was one area of the renovation that Ryan decided to put some extra work into. "I'm a bathroom person," he laughed. With that in mind, he was able to create a very spa-like experience, even in the limited space of the bus. He also equipped the shower with a bench and a rainfall shower head option.
Ryan says he and his girlfriend hope to take the bus out to California but it's been challenging while they look for contracts in the same area. Surprisingly, Ryan has found some difficulty reserving a spot at most RV lots, even though the bus is registered as such. He says having an unconventional home for an RV park can make things complicated but he has a solution for that. When applying for a spot, he also sends along a video to show that his bus has everything it needs to as an RV but also includes personal pictures of him and his girlfriend and their travels. He figures "it's harder to say 'no' to someone you get to know." Check out the video below.
Ryan appreciates the flexibility his PT work in home care gives him so he can also juggle his auditions. He says, "Home care gives me the freedom to move around my schedule when I need to." Now with a travel-ready home to match, there are even more work and travel possibilities on the road ahead for Ryan. Check out more travel stories like Ryan's on the Working Tourist blog and our Instagram.
subscribe to
the shc blog