Kandyce Nielson has been an ICU registered nurse for 5 ½ years. Although she does not typically travel for her job, she has experience with nursing in disaster relief, most recently during the California wildfires. Working in the intensive care unit, Kandyce is no stranger to crises, but when COVID-19 hit, there were even more uncertainties and challenges to deal with.
When she decided to take a travel nursing assignment for a COVID-19 crisis need, her biggest concern was keeping her son and the rest of her family safe. Especially with the unknowns of the virus, she was planning to not return home between shifts, so as not to expose others to the virus while on assignment. She also considered a local assignment but thought it might be even harder to deal with the isolation. "I didn't want to be a mile away and not able to see my son," she explained.
With all those considerations, travel nursing out of state ended up being the right move for Kandyce. Her brother made the 14-hour drive with her from Colorado to Minnesota while her parents took care of her young son at home. Although it was a trek and she knew the challenges of being far away, she was willing to make the sacrifice for her family and her patients.
Kandyce is incredibly appreciative of her parents, and their employers (ENT Credit Union and TIAA), for being so understanding as they took care of her son. Without their support and flexibility, she would not have been able to take the travel assignment or have the peace of mind that he would be looked after.
It has been difficult to try and explain to her son what is going on and to be away from him for so long, but Kandyce said they set up his iPad so he could Facetime her and she has made sure he has plenty of activities to keep him busy at home. Although it has been hard to be away, working 14 days in a row kept Kandyce focused on her work – and didn't leave much time in between except to sleep.
Compared to her fellow travel nurses, Kandyce felt close with her recruiter, Andrew. Most of her fellow travelers did not speak with their recruiters after they started their assignments. Andrew would check in with Kandyce on a regular basis and she said having him ask about things beyond the job, like her son, really helped her through her assignment.
Originally, she had been in contact with a friend of a friend about a place to stay near her assignment placement. It was a home with a nurse and perfusionist who were also working on the frontlines of COVID-19 as well, so she wouldn't feel quite so alone during her time there. Unfortunately, it ended up being too far away, but she was able to find a free room at a Hilton in St. Paul with her association membership. It also helped that other nurses were staying at the hotel with her.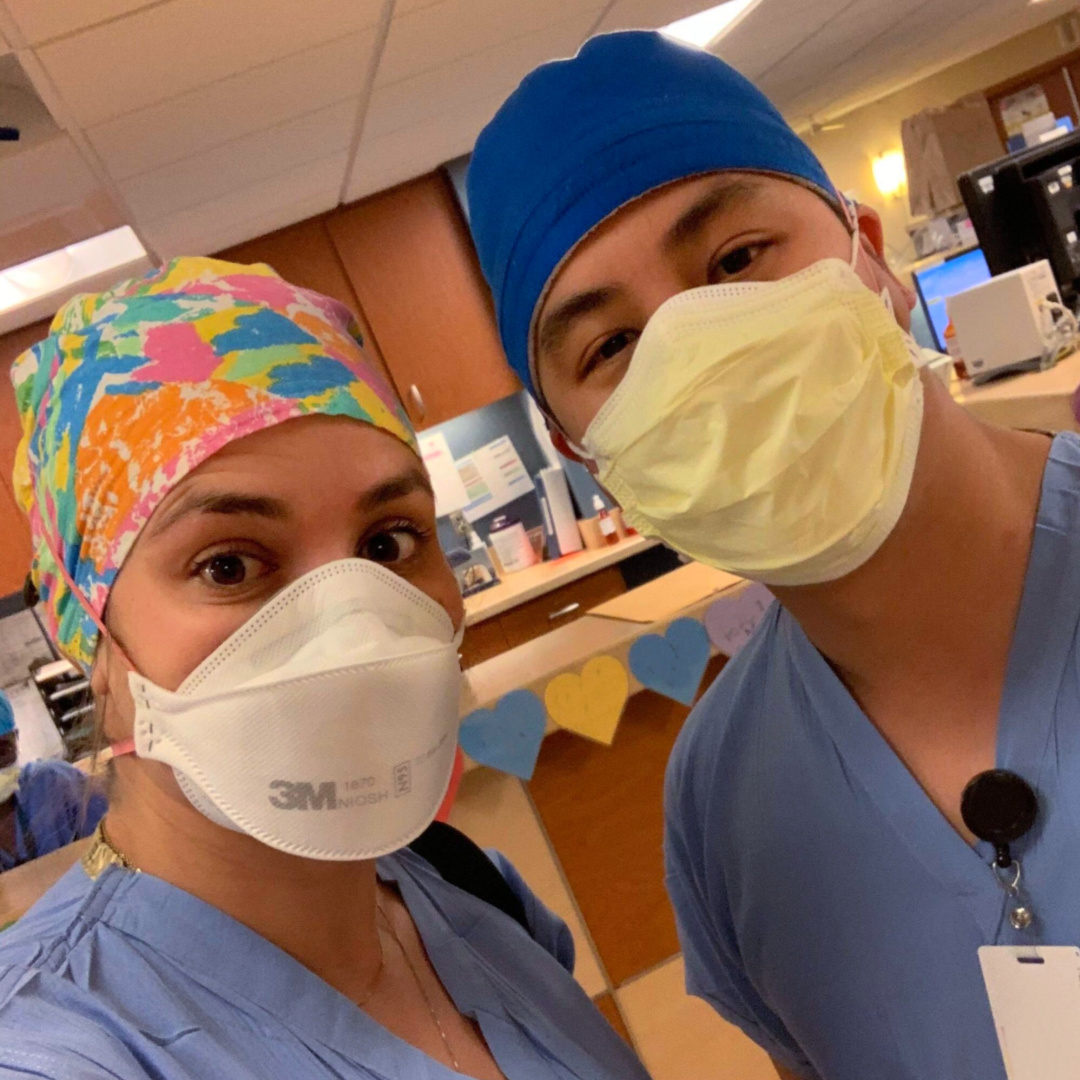 The COVID-19 unit she worked on had a good setup compared to what she had been hearing about at other hospitals. The nurses only had one or two COVID-19 patients assigned to them compared to higher patient ratios like four or five patients with a med-surg nurse.
Another added comfort Kandyce found on her assignment was learning that another nurse she had graduated with was working on her unit. Despite their PPE obstructing most of their faces, "we recognized each other just by eyes," she laughed. It was nice surprise to have a familiar face on the floor.
Kandyce shared that although these patients were coming into the ICU with the same diagnosis, they were all presenting symptoms very differently. Some were bleeding, others were clotting. Luckily, with the many unknowns of COVID-19 and learning a new charting system quickly, she still felt supported in her unit to be able to focus on patient care. She also helped in a charge nurse capacity to get others up to speed.
One aspect that Kandyce felt was especially challenging was seeing multigenerational family members in the ICU as COVID-19 patients. She recalls a parent that was already admitted to the ICU while their child was getting intubated and Facetiming family members that couldn't be in the room with their loved ones. She said it was crazy to go back and forth while two family members were both on a vent, receiving lifesaving support.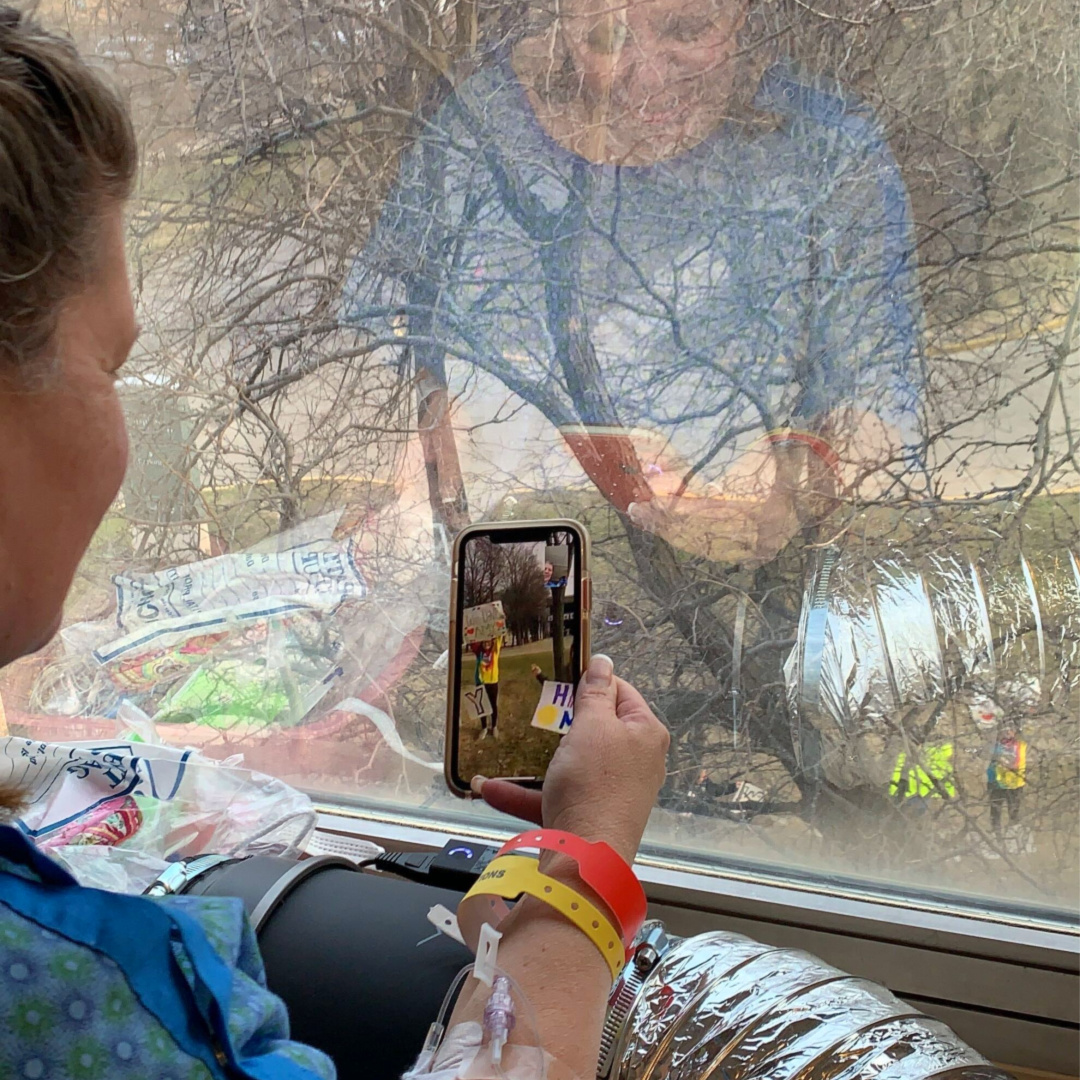 Even with the challenges of COVID-19, Kandyce loves being able to interact with her patients when she can. "I'm a big faith person," Kandyce shares.
While caring for her first COVID-19 patient, the husband spoke of the family's faith to Kandyce. Knowing that, Kandyce asked him if he would like her to pray over his wife during her shift. She also remembers how special it was when they shared how they had also been praying for Kandyce and her son all the time.
Soon the patient and her husband were calling the three nurses assigned to her care, their "extended daughters" and the family was bringing in treats and food for them. Kandyce even helped arrange her patient's family to come stand outside with signs to wish her well when they couldn't be in the room.
Beyond the strong connection Kandyce has with her patients, she also loves to see them leave the ICU. She says it's incredible to see someone come in and then out of the COVID-19 unit, recover, return home, and even get back to work.
All of us at Supplemental Health Care want to thank Kandyce for her sacrifice and compassionate care for her patients during the COVID-19 pandemic. We know she will continue her commitment to her patients and family beyond this assignment, each and every day. To find out what travel nursing opportunities and crisis needs are available with SHC, contact us today to get started.
subscribe to
the shc blog