As a busy healthcare professional, it's all about streamlining your workflow, and what better way to do that than on your phone? Nurses, therapists, and techs alike can benefit from having the latest technology at their fingertips to help on the job.
With the world of healthcare always evolving, nurses and other professionals in the field must keep up with the latest technology in order to provide the best possible care. Mobile apps can help healthcare clinicians learn the latest trends and industry news, look up medications, search for jobs, and even travel for work.
There are a number of mobile apps that can help nurses and healthcare professionals in their day-to-day work. From apps that help with medical translation to self-care for nurses, there is an app for almost everything healthcare-related. In this blog post, we will share the seven important mobile apps that every healthcare professional needs to make their job (and life) easier.
7 Apps to Make Your Job Easier
Job Search and Career Support
Mobile apps have allowed healthcare staffing companies and travel nursing agencies to help job seekers and employees keep track of job applications, compliance information, timecards, and payroll, all in one place. An app helps keep all that information at your fingertips and personalized each healthcare professional's wants and needs.
Supplemental Health Care's newly launched SHC WeConnect allows for personalized job matching and alerts, pay transparency, and real-time updates throughout the application and submission process. With a streamlined mobile app that covers all of your healthcare career needs, nurses, therapists, techs, and other professionals can stay focused on patient care.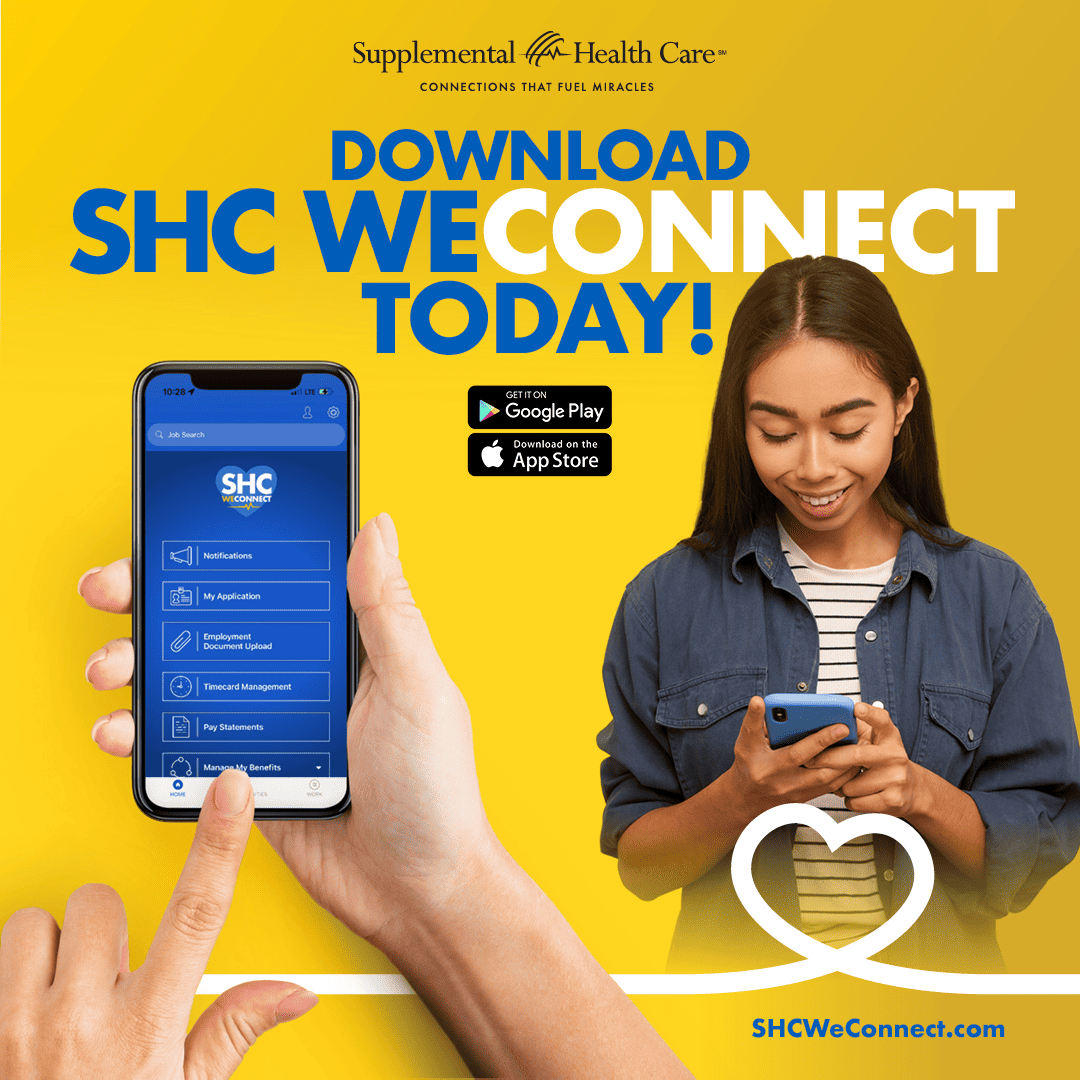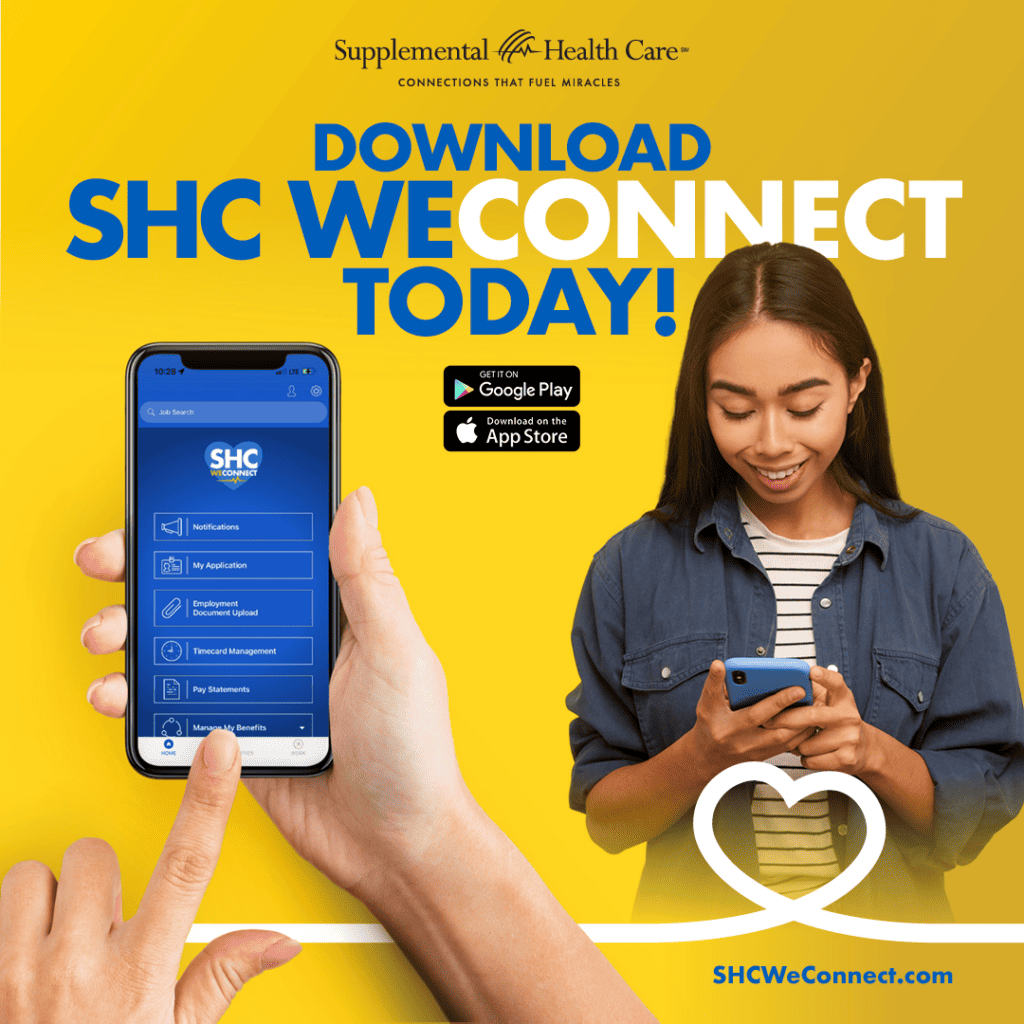 Medication Look Up
With the increasing use of mobile devices at work, medication guide apps are becoming a popular way for nurses to access information about medications while on the job. These apps can be a valuable resource for providing quick and easy access to vital information about medicine. There are many different apps available and they can be helpful tools for nurses in a variety of settings.
One of the most important features of a good app is a comprehensive database of medications. This allows nurses to quickly and easily look up information on the medication they are administering, such as dosage, side effects, and contraindications. Drugs.com has an extensive medication guide and pill identifier app that can help nurses on the job.
Travel and Trip Planning
Healthcare travelers and travel nurses need apps that will help them on the road as well as on their next assignment. There are plenty of mobile apps that can support you every step of the way, but one of the fun parts of traveling is the journey, right?
Be sure to check out RoadTrippers on your next travel adventure to help plan your route and fun stops along the way. And we have plenty of other travel app suggestions in a separate blog post if you want more ideas.
Translation Support
Healthcare professionals often work with patients who speak different languages, and translator apps can be a valuable tool in communicating with these patients and family members. This can help with collecting relevant medical history, explaining a procedure to a patient, and using general medical terminology. Translator apps like MediBabble Translator can help bridge the language barrier and ensure that nurses and clinicians are able to communicate with and provide care to their patients.
Self-Care
Nurses and healthcare professionals provide vital care and support to patients, families, and communities, so self-care is important for healthcare professionals for a variety of reasons. Apps that help manage stress and cope with the demands of the job can lead to more job satisfaction and better patient outcomes.
Operation Happy Nurse's mission is to help nurses to focus on their mental health and wellness as well as create a supportive nursing community. The nonprofit organization is working on converting its website into a mobile app, so nurse members will have nutrition support, meditations, workouts, and other offerings available anywhere they go.
Temporary Housing
Travel nursing and healthcare jobs can be great ways to see different parts of the country but it can also be a bit overwhelming to try to find housing on your own. Travel housing apps can help you find safe and affordable housing options when you travel for work that match your unique circumstances.
Furnished Finder's app is the perfect solution for traveling nurses and healthcare professionals who need to find short-term leases and rentals that are already furnished. This makes it a great option for travelers to find the perfect centrally located or pet-friendly options.
Education and Resources
There are many reasons why mobile apps are beneficial to nurses and healthcare professionals for educational purposes. They provide a convenient way to access continuing education content as well as brush up on or learn new information while on the go. In addition to clinical tools and the latest healthcare news, the Medscape app offers free CME/CE credits right on your phone.
Mobile Apps in Nursing and Healthcare
The use of mobile technology in healthcare is growing rapidly and apps are making tools easier and information more accessible. With healthcare professionals always on the move, it makes sense that there are an array of mobile apps to help them do their jobs better. Mobile apps can help nurses and healthcare professionals save time, provide better patient care, and manage their careers. With the vast array of apps available, there's sure to be one that meets every healthcare professional's needs.
subscribe to
the shc blog