SALT LAKE CITY, UT, October 2, 2023 – Supplemental Health Care (SHC) is thrilled to announce that its very own Dr. Kelly Byrd has been recognized as the American Staffing Association (ASA) 2024 National Staffing Employee of the Year and Health Care Sector All-Star. Sponsored by StaffPro3, the National Staffing Employee of the Year award is given to current or former temporary or contract employees whose stories of staffing success best represent one or more of the industry's key values of bridge and flexibility.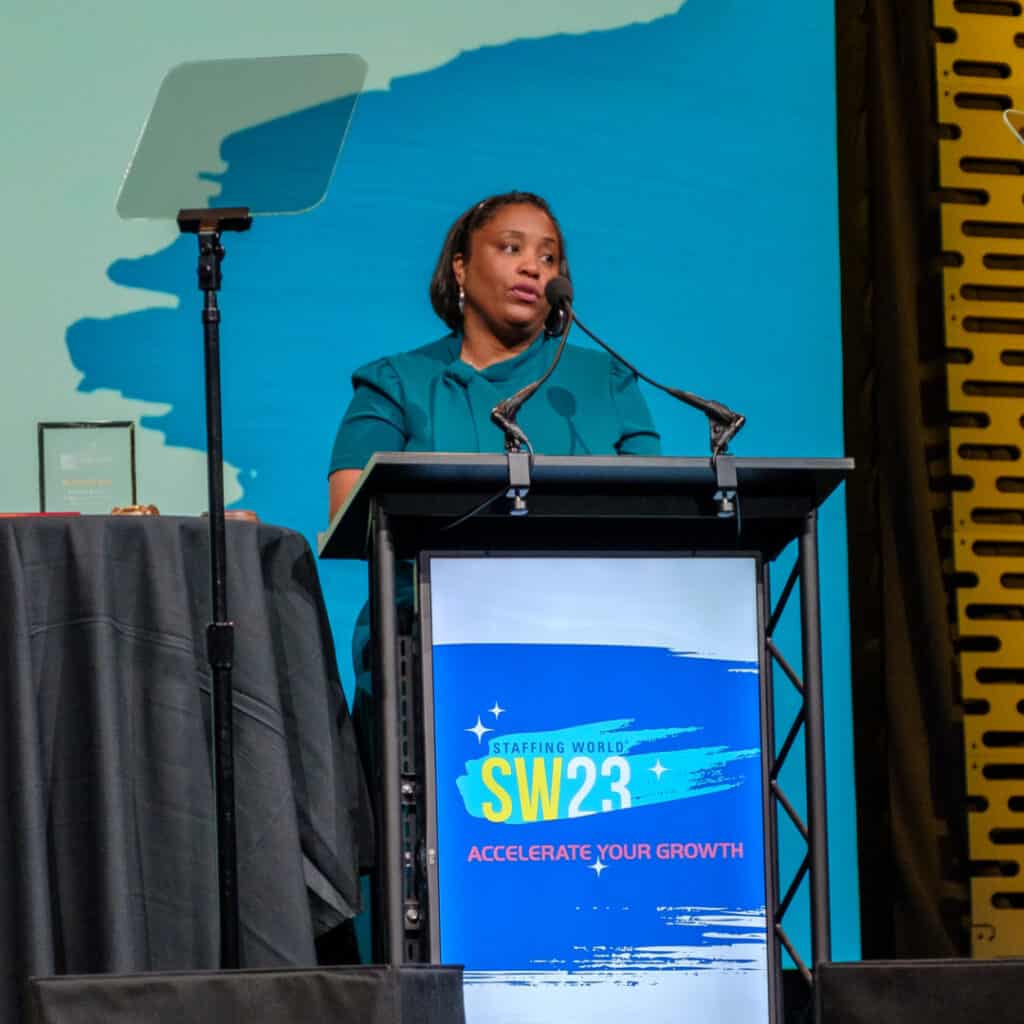 Over the last decade, Dr. Kelly Byrd has worked in the St. Louis Public Schools as a speech-language pathologist (SLP), while also completing her doctorate degree, writing a children's book, and founding a nonprofit to promote Black family literacy. Through her research as a doctorate candidate and through her work experience, Dr. Byrd recognized how a child's ability to read was deeply connected to their identity at school. She has since spent her life and career supporting literacy efforts in her community and beyond.
Partnering with SHC, Dr. Byrd says, gave her the flexibility she needed to pursue greater education and her passion for advocating for literacy while also serving as a school speech-language pathologist. In November 2022, she partnered with SHC to donate multicultural books and create resources for Family Literacy Day, which were shared with SHC speech-language pathologists, students, and school districts throughout the United States.
Supplemental Health Care is proud to have collaborated with Dr. Byrd and her work as a speech-language pathologist in Saint Louis, MO. The healthcare staffing company has also supported Dr. Byrd as an advocate for literacy by helping connect her to employment, sharing her incredible story, and supporting her nonprofit, Love for Literacy.
Kelly will now serve as the face of over 14 million of the staffing industry's annual employees, and her story is a testament to the impact SHC can have through the connections it makes possible. SHC is the only company to have ever won the Staffing Employee of the Year twice, which is a testament to the team's ability to recognize exceptional talent.
Dr. Byrd will be recognized during ASA's conference, Staffing World, on October 4th, and will be featured as a cover story in ASA's Staffing Success magazine. Supplemental Health Care is excited to celebrate Kelly's success throughout 2024 and continue to recognize her exceptional work in staffing.
About the American Staffing Association
The American Staffing Association is the voice of the U.S. staffing, recruiting, and workforce solutions industry. ASA and its state affiliates advance the interests of the industry across all sectors through advocacy, research, education, and the promotion of high standards of legal, ethical, and professional practices. For more information about ASA, visit americanstaffing.net.
About Supplemental Health Care
Supplemental Health Care (SHC) is a leading healthcare staffing provider that connects caring nurses, therapists, and other healthcare professionals with opportunities to fulfill their calling to better serve patients and students.
SHC is proud to deliver world-class service and career options to our clinicians, a range of dynamic workforce solutions to our clients, and a supportive atmosphere to our corporate teams. For everyone that we serve, SHC is the place where caring hearts thrive.