The importance of having portability among healthcare workers has been evident throughout the COVID-19 pandemic. In the earliest days of the outbreak, different areas of the country became hotspots while others had not yet begun to see a spike in patients.
As conditions worsened, nurses and other frontline healthcare workers from less impacted areas were asked to travel to these hotspots to help overrun hospitals and clinics. This reciprocity between states has been vital to the pandemic response and has provided the momentum for more state legislatures to consider adopting the Enhanced Nurse Licensure Compact (eNLC).
Nursing Licensure Compact History
Originally called the Nursing Licensure Compact, the NLC was introduced in the late 1990s by the National Council of State Boards of Nursing. The intent was to reduce the barriers for nurses and other providers to practice in participating states on their home state license.
Early momentum saw many states take legislative action allowing their participation until 2015 when adoption stalled. Since then, several changes have been made to streamline the process while adding provisions for background checks and other safety measures. This latest iteration of the NLC is referred to as the Enhanced NLC, and state nursing boards are once again evaluating their options.
eNLC Issues to Overcome
In response to the COVID-19 pandemic, individual states enacted emergency legislation allowing nurses to practice between states, regardless of Compact status. These emergency actions were vital to ensuring the hardest-hit communities could bring in workers from other states. In many cases, non-Compact states point to the pandemic response as a significant reason why nursing compact legislation is now a priority.
Multi-state licensure is very popular among the nursing community, and there is growing support for the original Compact in many states that have been slow to adopt. What hasn't been as clear-cut is support for eNLC adoption. Even some states that are part of the original Compact have expressed reluctance toward the enhanced version.
Reasons for resistance include:
Concerns about the background checks and potential disciplinary implications of eNLC.
Growth of telemedicine and telenursing adding to a growing nursing shortage.
Reduction in revenues from single-state licenses.
What the eNLC Means for Nurses
Nurses who have a current NLC license who wish to transition to the eNLC are not required to pay additional fees. If they pass the requirements, they will be issued a new eNLC license. If you reside in an eNLC state and your license is coming up for renewal, you will have the option of applying for the eNLC.
While each state is responsible for notifying nurses about changes to the licensure process and how to obtain an enhanced Compact license, all nurses should stay informed through their state nursing board website. Also, for information specific to the eNLC, sign up for the Nursys-e-Notify system, which provides real-time notifications about the eNLC. Nursys is a free news and information source provided by the U.S. Board of Nurses.
Requirements for the eNLC include:
Nurses must claim residency in an eNLC state to apply for a Compact license.
Nurses who are seeking their first licensure have the option to choose between an eNLC or a single-state license.
If you are holding a Compact license, you must meet the continuing education (CE) requirements for your own state. Courses and hours vary by state.
Travel Nursing in Compact States Today
Today, 24 of the original NLC states have enacted eNLC legislation, while another 12 states and Guam have pending eNLC legislation. A complete list of eNLC states can be found here. And, while many states are still working through the conversations about pursuing the enhanced Compact legislation, momentum is strong for multi-state licensing via the original licensing compact.
New Compact States
Three new states passed legislation to enact the original NLC, bringing the number of participating states to 38. Governors in Ohio and Pennsylvania signed NLC into law on July 1, 2021, and Vermont passed Compact legislation a month earlier, on June 7, 2021. Of these, Vermont is implementing the NLC in February of 2022, followed by Ohio in January 2023. Pennsylvania has yet to set a date.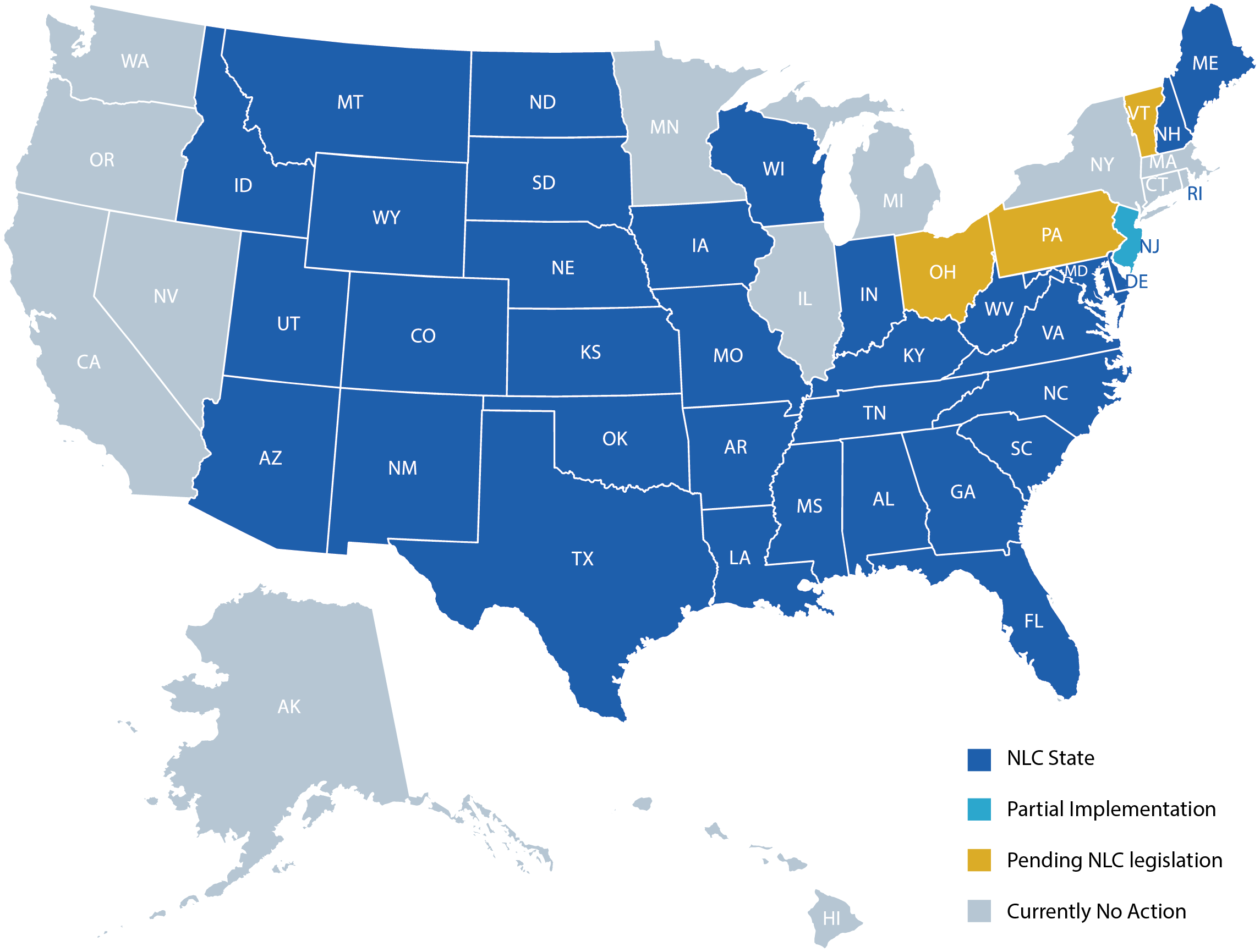 The next group of states to adopt compact licensing appear to be California, Illinois, Michigan, Rhode Island, and Massachusetts, all with pending NLC legislation in their respective state legislatures.
For travel nurses, securing a multi-state license is opening up more opportunities throughout the country every day. Plus, by holding a Compact license, you are making yourself more valuable because you can fill immediate job vacancies in Compact states without going through the state licensing process.
For example, during the pandemic, healthcare organizations in COVID hotspots were desperately trying to bring in travel nurses to help with patient volumes in their overrun emergency departments and intensive care units. Demand for travel nursing in certain specialties is also on the rise like operating room and surgery-dependent specialties that were shut down for electives surgeries during the beginning of the pandemic. Whether due to emergency needs or to fill temporary nurse staffing shortage situations, having a Compact license can open up a world of opportunities for those who are interested in travel nursing.
With almost forty states participating in a multi-state licensing Compact, there have never been more choices in travel assignments for nurses and advanced practice providers. Contact Supplemental Health Care today and see where your next adventure awaits!
subscribe to
the shc blog