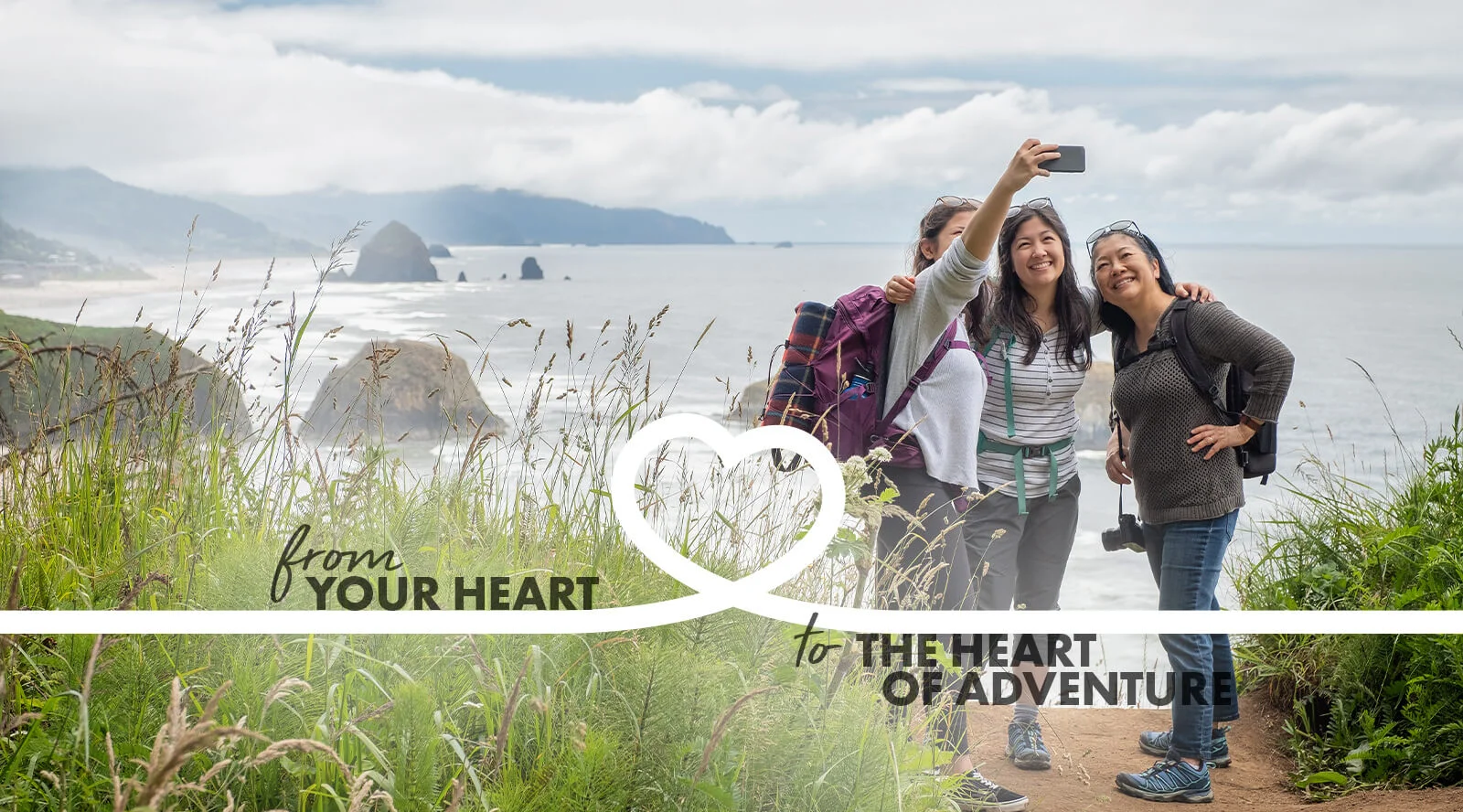 Job Seekers:
Travel Nursing
Let's Go:
Travel

Nursing Jobs with SHC
If you have a passion for providing a helping hand and a caring heart, Supplemental Health Care can help fulfill your calling. We're one of the largest Travel Nursing agencies in the U.S., with the reach to offer high-paying, fulfilling jobs and nearly 40 years of expertise in supporting traveling nurses.
Whether you're new to travel nursing or seeking your next adventure, let Supplemental Health Care's staffing agency empower your journey. Here are just a few of the ways we can support you.

From the education to the experience that are prerequisites to licensure, SHC has the expertise to guide your entry into travel nursing.

Today, nearly 40 states participate in the multi-state licensure compact—creating greater travel opportunities than ever before. Gain all the nursing licensing need-to-knows with SHC.

With an SHC travel nursing contract, you gain the support of specialists dedicated to finding you not just housing, but your home away from home.

With SHC, your travel nursing job is a win-win, opening the door to exciting experiences along with the reward of great pay and benefits.

As a traveling nurse, you'll need to expand your knowledge and skills to meet emerging requirements. So SHC connects you to the courses required to keep growing as you keep going.
With nearly 40 years helping the most caring professionals fulfill their calling, both on the road and close to home, we've got the answers you need.
JS-Travel_Nursing_postcards-1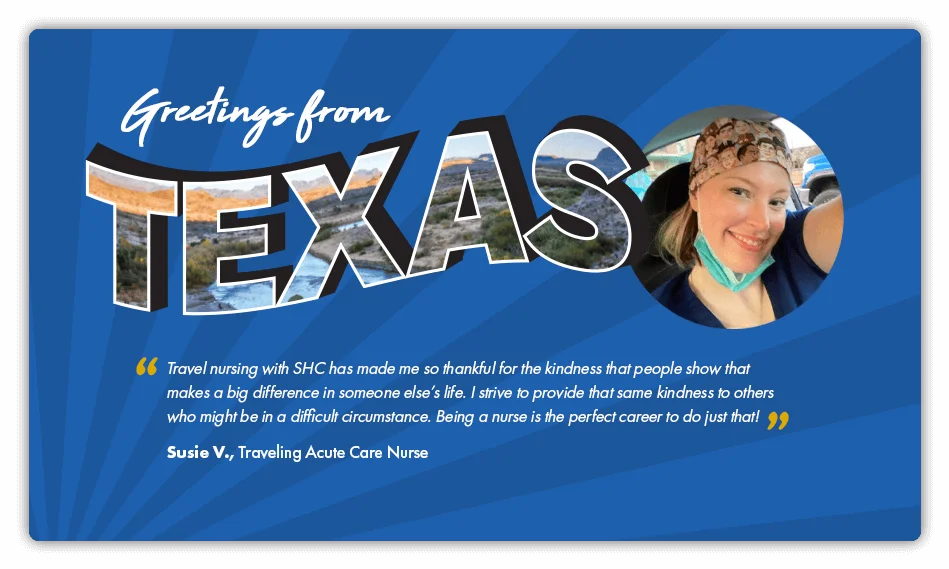 JS-Travel_Nursing_postcards-2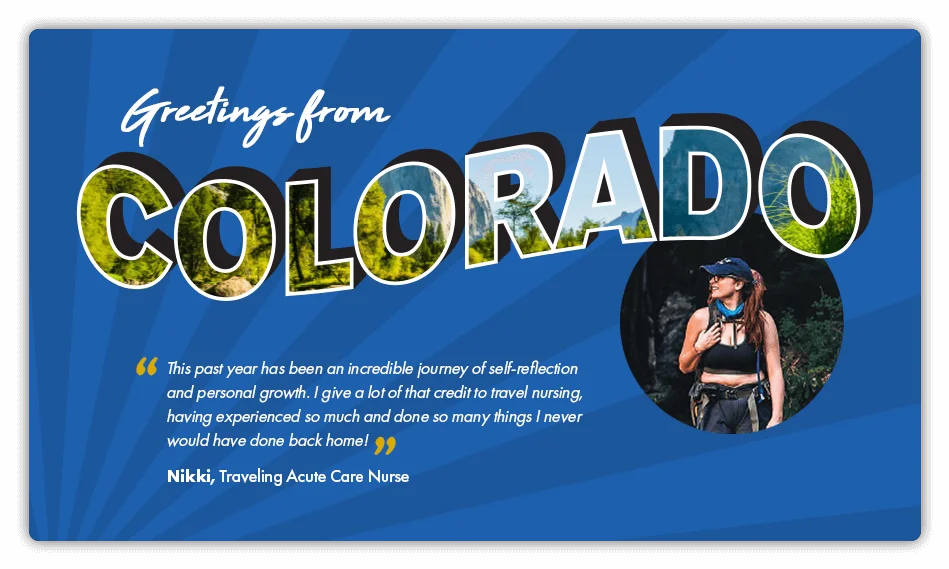 JS-Travel_Nursing_postcards-3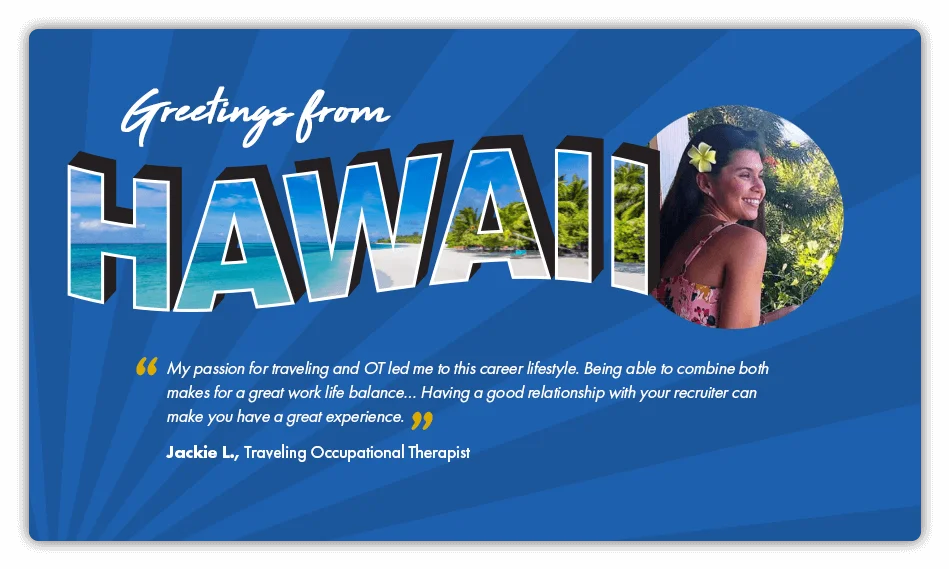 JS-Travel_Nursing_postcards-4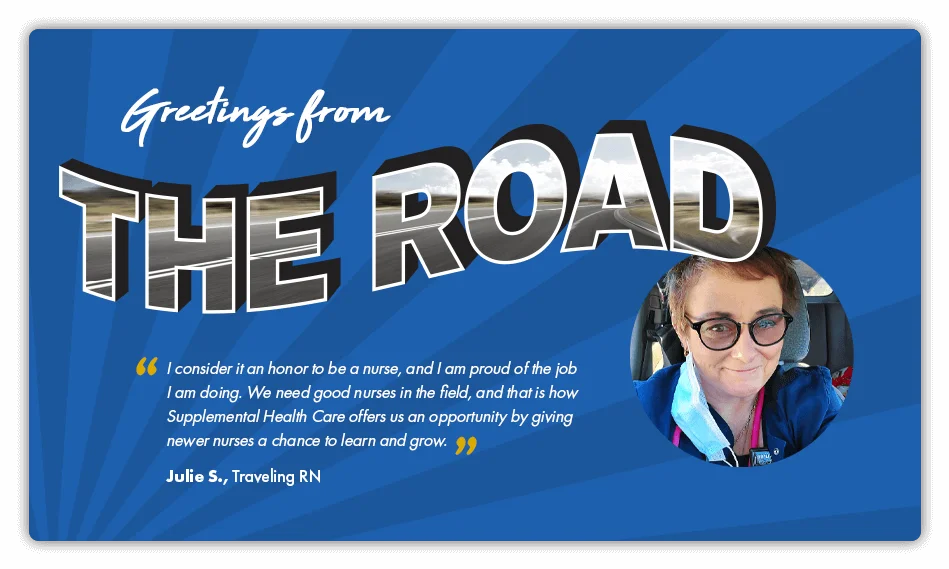 Choose a state to begin your search.
Correctional & Government Services
Ambulatory & Long-term Care
Behavioral & Mental Health
states where SHC
travel nurses have worked
%
of our working nurses
recommend us to peers
K+
SHC nursing professionals
placed annually
Navigate

Nursing licensing with SHC
Just as overseas travelers need a passport, travel nurses must meet licensure requirements. The good news? Over 40 states today participate in the multi-state licensing compact, creating more opportunities for travel nurses to explore.
Travel Nursing has never been easier with the Enhanced Nursing Licensure Compact (eNLC), but experienced support can still make the difference between a bumpy road and smooth sailing.
SHC will help you identify exactly the boxes to be checked for your next assignment, and we'll keep you informed of continuing education (CE) requirements that you might need along the travel nursing road.
Finding your home away from home
To deliver the best possible care, you need to feel settled. That requires a place to live that suits your lifestyle. At SHC, we support travel nurses with a dedicated housing support team that can help you review housing options in your preferred location.
We'll help you sort through your options, from the expected (home or apartment) to the more adventurous (RV rental, anyone?) No matter your preference, a successful search requires starting early—rental costs and availability can fluctuate.
You have a start date to keep in mind, so lean on SHC's help, tips and resources to ease your transition to a new locale. Learn more about travel here.
Rewards for doing what you love
Travel nursing enriches you with new discoveries. But at SHC, the rewards don't stop there. In addition to great assignments, we make it possible for caring professionals to stay and grow with us long-term.
With SHC, you'll earn benefits along with your pay (outlined below). In addition, SHC offers some of the most creative programs anywhere—like delivering everyday discounts from great partners like Verizon and 1-800-Flowers.
We call it Supplemental Advantages, and it's our way of going a little further for you—just like you do for patients every day.
SHC BENEFITS & PERKS:
- Health, dental and life insurance
- 401K Retirement Plan
- Share the Care Referral Program
- Supplemental University Online Learning Portal
- Supplemental Advantages—
special discounts for caring professionals
You're excited about travel nursing, but no doubt you're also here to grow your skills. So how do you keep learning? You'll find a range of helpful tools and pathways to knowledge here. And there's always an expert ready to answer a question as well.
Help someone you know benefit from SHC's support and you'll not only strengthen a friendship, you'll add to your pocketbook.
SHC's Share the Care program is the most dynamic, profitable referral program in the industry, with rewards of up to $2,000 per referral or the choice of residual payments!
Find out how easy it is to add to the rewards of choosing SHC to help grow your career.